The most surprising and unexpected thing I saw on my trip to Florence wasn't the Michelangelos, Botticellis and Da Vincis (photos at the end) but the train station, built in 1934 in a streamlined modern style with similarities to Frank Lloyd Wright and a bit of Flash Gordon futurism. It's breathtaking, not least because it's almost entirely intact and free of disfiguring renovations. There's an uncanny feel of traveling backwards in time.
There are no train stations like it anywhere in the U.S. or Germany and I suspect probably any other country, and hardly any buildings at all in this style with their interiors intact, except perhaps elsewhere in Italy, which not many people realize was one of the earliest and most enthusiastic adopters of futuristic modernism. The original signage and many bronze fixtures are still there, which is extremely rare even in historically preserved public buildings. Everything is marble, travertine, bronze and wood. Dramatic glass roofs seem to have no support.
There definitely is a plethora of recent signs and ticket machines and kiosks adding clutter and visual noise that detract from the effect. But upon closer inspection they're mostly free-standing, and actual intrusions on the building substance have been held to a minimum. In the 1970s a hideous shopping mall was built beneath the station but the entrance is so unobtrusive I almost didn't notice it, and I'm highly alert to these things. A notable exception is in the former restaurant, which seems to have been huge, and has been gut renovated and is now a two-level (and otherwise excellent) bookstore. Only portions of the splendid wood paneling, mirrored walls and room-sized paintings remain.
As for the masterpieces of Renaissance painting, sculpture and architecture – they were as splendid as you expect, and my photos are below. But that's just it – you expect to see the Renaissance masterpieces but you're not prepared for the marble-and-bronze space age visions of the train station.
At first things look fairly junky with all the brightly-colored signs and barriers and whatnot but ultimately they've done a very good job of not physically altering the building so it can remain intact for posterity.


Concourse with shops and entry to platforms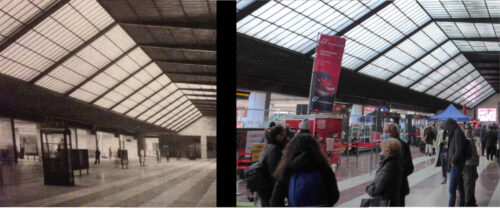 Unusual clocks
Beautiful bronze and wood frames and fixtures. Display cases that originally must have held timetables or newspapers for people to read now have an exhibition about the station.
The restaurant has been gut renovated but some of the original luxurious wood paneling, mirrors and room-sized paintings remain. Now it's a sprawling two-level bookstore where you can also buy musical instruments (bottom right) and vinyl records..
Mural in the concourse
And here's just a selection of the photos I took of the Renaissance art and architecture which I  haven't gotten around to labeling and organizing. Hardly any of them show the really famous artworks because there isn't much point of taking your own photos – but I did seem them.
asdf