Can we say "we told you so" now? Ignoring ecologists' warnings about bad land management – along with poor governance and costcutting – caused those deaths at least as much as the climate crisis did.
Last week twice as many people died in floods in one small area in rural Germany than die in the entire U.S. in an average year of floods and hurricanes combined. In the media – and it's safe to assume, the general public – the climate crisis is taken to be a primary cause of the disaster and its 242 deaths, 184 of them in Germany.  This assumption is factually incorrect.
Although the climate crisis is well on its way to being the biggest environmental catastrophe in human history, experts have calculated that climate change only modestly increased the intensity of last week's storm. It was indeed a 400-year storm, that is, the kind that happens on average, without climate change, once in 400 years. The question is, are the 184 deaths and $34 billion in damages in Germany normal for a 400 year storm with a slight climate-induced intensification? (By comparison, Hurricane Sandy caused twice as much damage and one and a half times as many deaths across the entire eastern U.S., Canada and Caribbean over ten days, as occured in about two days in just a few counties in Germany.)
The answer is no, it's not normal. Even a 400-year storm does not normally cause this much destruction. The primary cause wasn't climate, as the experts have calculated. It had to be something else and that something was a massive failure of governance and decades of intentional disregard for basic principles of hydrology and ecological land management. The principles have been understood for at least a century and in some cases, such as "don't build in a flood plain", millenia. They're not new or controversial. They're things everyone learns in mid-level college courses on the topics. And they predict precisely these kind of disasters.
The ecological principles in question are essential to prudent land-use planning and flood and river managment to protect the safety of people and the health of our land, water, soil, flora and fauna. In essence it's about using the earth's natural flood defenses instead of fighting them by using concrete as a weapon in an attempt to beat nature into submission.
The clearest explanation of the situation I know of appeared, interestingly, in a book about landscape history from 1956, and it explains perfectly the conditions that enabled last week's floods, and nearly all urban floods everywhere.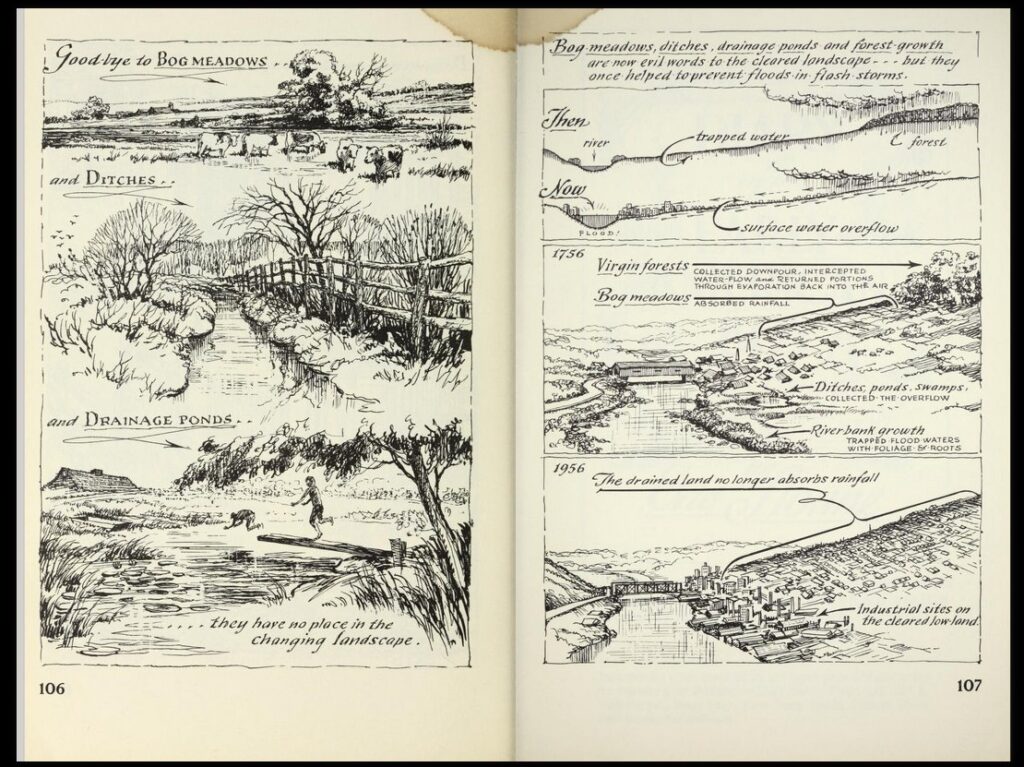 Continue reading "No, climate change didn't "cause 242 deaths" in Europe's floods"